NEWS ARTICLE
---
June 8, 2023
Western National Insurance Group Named Recipient of Heart Safe Business Designation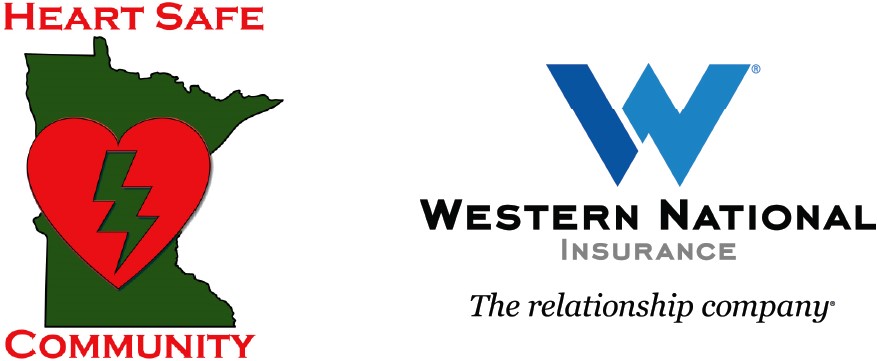 (Minneapolis, Minn.) Western National Insurance Group today announced it has received the designation of "Heart Safe Business" via a program jointly supported by the American Heart Association, the Minnesota Department of Health, and a team of state-wide organizations.
The "Heart Safe" program aims to increase survival rates of sudden cardiac arrest by helping communities assess their preparedness for cardiac emergencies and finding gaps where improvements can be made. Heart Safe designation is reached by acquiring points or 'heartbeats' based on population size. Heartbeats are given for community awareness programs, CPR training, AED placement and mapping, access to rapid emergency services and progressive hospital systems, and development of community heart-healthy activities.
Western National Insurance Group has met the requirements for a Heart Safe Business designation by earning 'heartbeats' for having 20% of employees in the office that are CPR certified, an Emergency Response Team, three AEDs and a map to locate them, and being within 30 miles of a cardiac unit. Bonus 'heartbeats' were earned for being a tobacco-free business, having access to an outdoor walking path, an employee health insurance plan that offers a reimbursement for attending a gym, a robust well-being program, a blood pressure machine, and annual CPR training sessions.
"We are proud to receive the designation of Heart Safe Business, which recognizes our Group's commitment to improving positive heart health and safety outcomes at Western National and in our local communities," said Rick Long, President and CEO of Western National Insurance Group. "This recognition affirms our Group's values in creating a culture that help our employees and local communities stay healthy and safe each and every day."
Key state-wide partners in the Heart Safe Designation program are the MN Resuscitation Consortium at the University of Minnesota, Allina Health EMS Heart Safe Communities Program, North Memorial Heart Safe Communities Program, Take Heart St. Cloud, Take Heart American, and several others.
Any municipality, county, or organization is eligible to apply for the Heart Safe designation. Applicants can be determined by geographic locations or organization size. Geographic locations are cities, townships, or counties. Separate application and requirements are available for schools or worksites.
While there is no application fee, there are often costs associated with meeting the criteria to become a Heart Safe Community. Cost will vary depending on the Community's size and needs (i.e. CPR training and equipment or AED placement). A proper assessment of your Community will determine the needs.
To learn more about Heart Safe Community Designation and to access applications and toolkits, please click here. Or visit www.health.state.mn.us and search heart safe designation.
Western National Insurance, headquartered in Edina, Minn., is a super-regional group of property-and-casualty insurance companies. The Group writes business through five active insurance companies—Western National Mutual Insurance Company, Western National Assurance Company, Pioneer Specialty Insurance Company, Umialik Insurance Company, and American Freedom Insurance Company — and is affiliated with Michigan Millers Mutual Insurance Company. Together, the affiliated Group writes over $900 million in personal and commercial direct premium in 19 states across the Northern, Midwestern, and Western U.S. as well as in Alaska; and surety bonds in 38 states. All of the companies' products are sold exclusively through professional Independent Insurance Agents.
For further information, please contact:
Steve Norman, CPCU, M.A., AIT
Senior Vice President – Communications & Customer Experience
(952) 921-5680 or (800) 862-6070 (Ext. 7680)
steven.norman@wnins.com